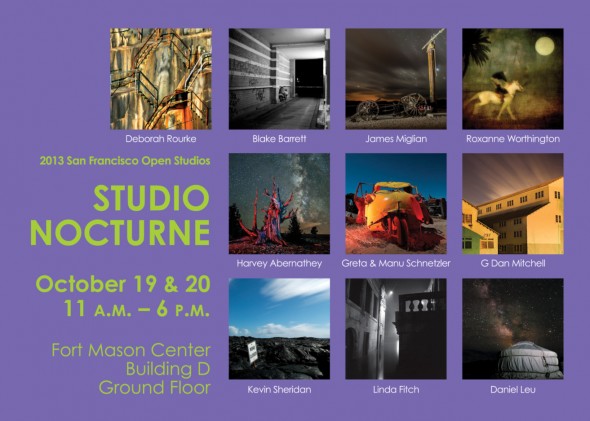 Studio Nocturne returns to the Fleet Room in Building D at Fort Mason for its 11th year as part of Art Span SF's Open Studio 2013 on October 19 and 20 from 11am to 6pm on both days. This group of 10 photographers all share a passion for night photography and are part of the vibrant San Francisco night photography community.
Studio Nocturne was led for its first ten years by Tim Baskerville of The Nocturnes and many members of the group found their way to night photography through Tim's classes and workshops. After ten years of leading the group, Tim stepped down after last year's show to concentrate on his personal work and teaching. However, the group continues to be inspired by Tim's enthusiasm and the sense of community he created around night photography. Tim's leadership created a strong foundation for this Open Studio to continue to flourish and inspire others.
Returning members, Manu and Greta Schnetzler and Roxanne Worthington, who have been with the group from its inception are leading Studio Nocturne this year. Several other members are returning after multiple years of participation and, as always, the group welcomes some new members each year. This year's lineup features many unique expressions of the idea of the "nocturne" in photography.
Fort Mason hosts an opening for Open Studio artists under the full moon on Friday evening, October 18, from 7:30 to 9:30 pm. (need to confirm with Fort Mason) Off the Grid food trucks will also be there for the Friday evening festivities with plenty of food choices and entertainment. Studio Nocturne will share the Fleet Room again with the Bay Printmakers and there are also Open Studio artists showing in the other buildings at Fort Mason. This is always a great venue to see and buy lots of art in one place and there is plenty of parking in the Fort Mason lot. Studio Nocturne usually welcomes more than 1000 visitors over the course of its Open Studio weekend and looks forward to another great year welcoming old friends and introducing new fans to night photography. For more information visit www.studionocturnesf.com or on facebook at, www.facebook.com/StudioNocturneSF
Participating 2013 Studio Nocturne Artists include:
Harvey Abernathy
Blake Barrett
Linda Fitch
Daniel Leu
James Miglian
G. Dan Mitchell
Deborah Rourke
Greta And Manu Schnetzler
Kevin Sheridan
Roxanne Worthington